Bursa Trip or the green bursa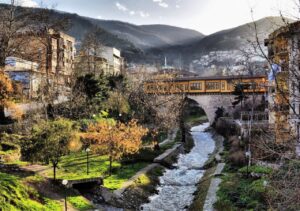 Most tourists prefer to head to Bursa or green Bursa from Istanbul for a day trip because Bursa is a city close to Istanbul, which is why most people prefer to go and return on the same day.
And this option is good for those who love nature and want to stay near Istanbul as well.
Weather in Bursa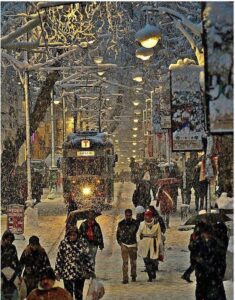 In general, weather in Bursa is known by a low-temperature climate, with snowy winter and sunny spring as well.
In summer, the temperature is not high, about 25 degrees.
As for the weather in the green Bursa in winter, it is cold, and the temperature reaches below zero.
Moreover, it is the snow season and it is the perfect time for a Bursa tour due to the features and activities of this season.
Bursa city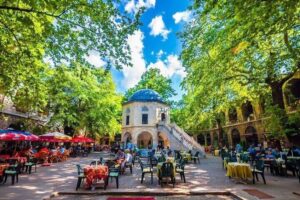 Bursa is called a green city because of its green nature and views. It is about two hours away from Istanbul.
 In relief, many activities can be done and places to visit within the trip.
Bursa trip
During the period of the rule of the Ottoman Caliphate, it was of great stature.
It was the capital of one of the Ottoman provinces, therefore it combines the good views with the great history.
Bursa Trip with Groupe
The Bursa trip starts in the morning, and in that time, our driver will pick you up from your place of residence with the latest tourist buses 
which accompanied by a distinguished tour guide who speaks Arabic and English.
The trip begins with crossing the Bosphorus Bridge to move to the Asian side, then take a ferry in the Sea of ​​Marmara to move to Bursa.
 Heading to Uludag Mountain, enjoy the scenery, and do activities at the same time.
After descending from Uludag Mountain, we visit the perennial tree that is more than 600 years old, then we head to the famous Ottoman village and go to the waterfalls area to take souvenir photos.
On our way back to Istanbul, we visit the famous bee shop and lokum shop.
By the way, the cost of a Bursa trip per person is 250 lira, including transfers from your place of residence in Istanbul to all the mentioned places.
knowing that the amount does not include entrance fees to museums and events, also 
it does not include the cable car (Telefrik).
You can book your private trip to Bursa with a luxury car
For reservations and inquiries :
00905365288214
00905365222552