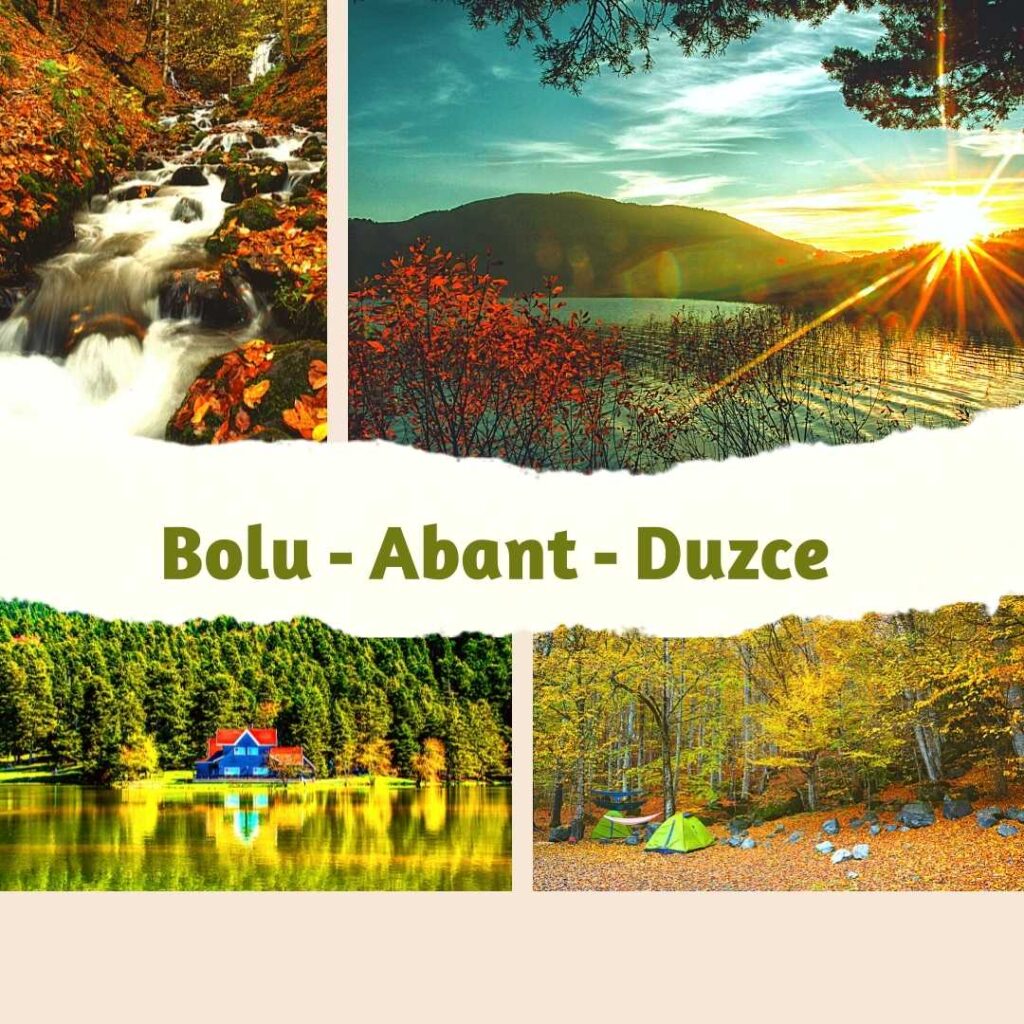 Get to know Bolu, Abant ,and Duzce city
Get to know Bolu

city a mountainous area formed as a result of a large landslide that led to the existence of this city. Bolu city is located 350 km from Istanbul on the western coast of the Black Sea. As it is characterized by its middle location between the capital, Ankara, and Istanbul. So, it Attracts tourists to it, and some consider Bolu one of the most beautiful natural lakes in the world because of its beautiful geography. Also Bolu contains many types of plants and the most beautiful mixed natural forests as there are a large number of tree species that make up the Bolu forests. The main species are beech, hornbeam, oak, alder, maple, elm, aspen, yellow and black pine, fir, hazel, linden, and ash trees are tall and have smooth trunks. There are also endangered plant species such as the yew. Among the wild animals there are bears, boars, wolves, foxes, fish, squirrels, deer, and rabbits, and among birds are teal, wild pigeon, and partridge. More than 100 species of birds have been identified in the national park area. This is what made many call Bolu a secret paradise.
The climate of Bolu city is hot in summer and cold in winter in general. With some climatic changes between the oceanic climate and continental climate from the Black Sea climate and the Anatolian climate from temperatures between 7 °C to 20 °C.
Tourist places in Abant, Bolu and Duzce
There are many tourist places that you can visit in Abant, Bolu and Duzce. Not only because of its charming nature, but also for the enjoyable recreational activities that exist in the area, such as camping in the nature, sports fishing and climbingas well. Among these areas, we have chosen for you the following:
Yedigöller _ Seven Lakes Garden
  Kartalkaya _ Resort Kartalkaya
Gölcük gölü _ Lake Gölcü
Mengen
Antik Kentler _ Ancient City of Bythenium 
Abant Gölü _ Abant Lake
Bolu Muzesi _ Bolu Museum
mağaralar caves
Aydınpınar Şelalesi _ Aydınpinar Waterfall 
Samandere Şelalesi _ Samandra Waterfall
 güzeldere şelalesi _ Quzal Dara Waterfall