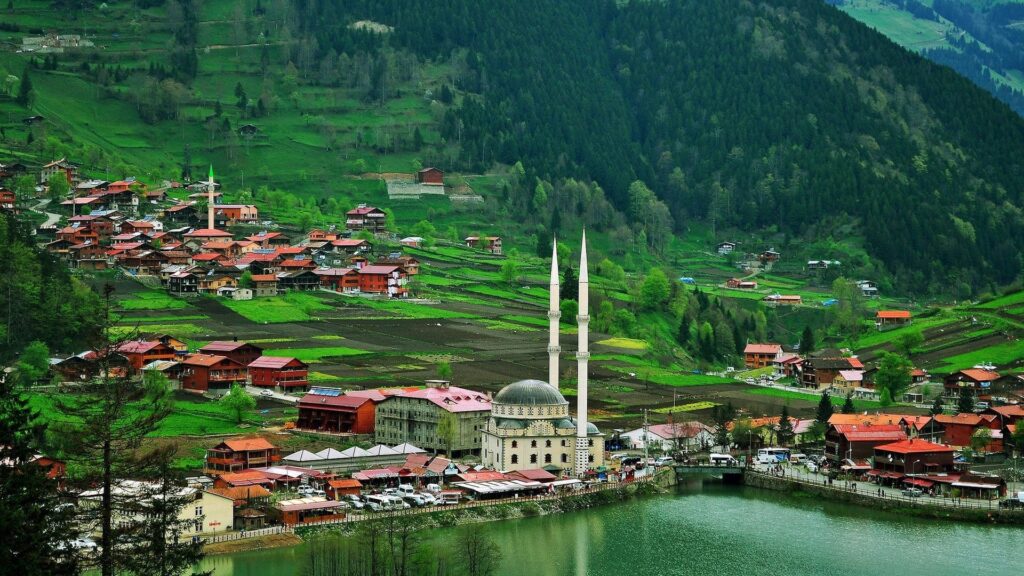 Trabzon city
 Trabzon is located on the east coast of the Black Sea. It is one of the largest cities in Turkey. This city is famous for its picturesque green nature and mountains. Also, Trabzon city is one of the beautiful cities for tourism. The diversity of its terrain characterizes its geographical location. As it combines high mountains, lakes, and rivers, apart from its distinguished coast overlooking the Black Sea. The city is at an altitude of 39 meters above sea level and covers an area of 4,685 square kilometers. Furthermore, the city of Trabzon is characterized by beautiful nature decorated with mountains and plateaus. There are twelve rivers in Trabzon, and it is estimated that about three-quarters of the area is mountains and plateaus.
The climate of Trabzon
Trabzon's weather is mild climate and picturesque nature because of the frequent rainfall. In addition, its terrain combines the sea, mountains, lakes, and rivers. In summer, the climate is semi-tropical, humid, and warm, with an average temperature of 26 degrees Celsius. Some tourists prefer to spend the rest of their vacation at the end of the summer season in Trabzon. In comparison, some others enjoy its atmosphere in the winter when the weather is cold and humid. with an average temperature of about 5 degrees Celsius. At that time of the year, Trabzon's mountains are covered with snow. So the view is stunning for winter lovers and visitors.
Tourist places in Trabzon
Sultan Murat Heights




Akçaabat park




Hidırnebi Yaylası . Hill of the Prophet Khidr




Hıdırnebi tepe . Heights




Uzungöl Lake




Sümela Manastırı . Monastery




Çal Magarası . Cave




Trabzon Castle




Trabzon Meydan




Çaykara koy . Tea Village




Sera Gölü . Lake




Hagia Sophia Mosque Trabzon Ayasofya cami




Overlooking Boztepe




Akçatepe tepe




Luna Lunapark




Zigana tepe




Demirkapi tepe




Karaca Mağarası . Cave




Paraşut




Uzungöl horse farm at çiftliği




Kayabaşi Yayla Kent . Highlands




Demirkapı koy . Village




Fish lake balik göl




Rafting ayder




Sulfur baths Ayder termal havuz




Ayder waterfall




Palovit şelale . waterfall




Ottoman bridges Ayder ottoman bridge




Rize kalesi . castle




Çay Bahçesi . Tea Plantation




Luna Park Risa lunapark




Rize muzesi museum




Rize Ridos Thermal . Resort




Ovit Yaylası . Heights




Haçkalı Baba Yaylası . Heights




Zigana dagi teras




Hamsikoy




Ayder yaylası . heights




Zilkale castle




İskender Pasha cami . Mosque