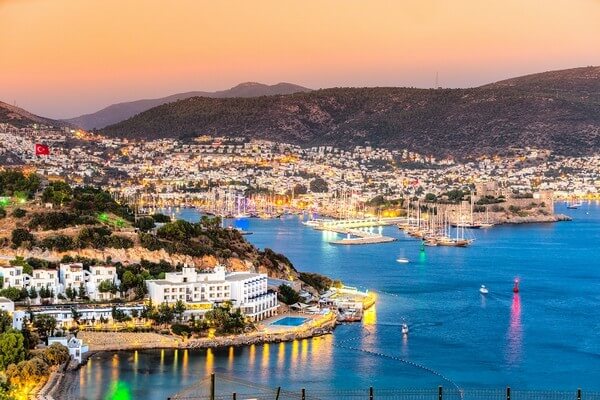 Bodrum

city
Bodrum is one of the most beautiful tourist places in Turkey and the most important coastal area. It is located in the southwest of Turkey in the Aegean region. Also it is one of the small cities that attract tourists from all over the world because of the beauty of its beaches and pleasant climate that extends For all months of the year.
Bodrum is characterized by the cleanliness of its beaches and the purity of its water that making it a destination for many tourists to practice various enjoyable water activities in addition to the beautiful natural manifestations and ancient historical monuments every year.
Bodrum Climate
The city of Bodrum in Turkey has a Mediterranean climate, which means that the weather in the city is mild and good throughout the year. Summer is the best time to travel to Bodrum, where the warm and sunny weather and lively atmosphere give you a great opportunity to visit the beaches and enjoy various tourist activities. The meteoblue climate diagrams are based on 30 years of hourly weather model simulations and available for every place on Earth. By the way, they give good indications of typical climate patterns and expected conditions (temperature, precipitation, sunshine and wind). 
Tourist places in Bodrum
Bodrum Castle – bodrum kalesi
Maritime Archeology Museum – deniz muzesi
Mausoleum of Mausolus – Halikarnas Mozolesi
Camel Beach – Camel plaj
Gumbet Coast – Gümbet sahil
Vink Beach – Fink plaj
Bardaki Cave- Bardakci Cove
Yehsi Beach – Yahsi plaj
Palmarina Bay – Palmarina halic
Oasis Mall – Mall of Oasis
Gumusluk village – Gumusluk
Tafshan Island – Tavşan adası
Torba Beach -Torba plaj
Mimosa Square – Mimoza meydan
Marina Bordom – marina bodrum
Bodrum Water Sports – Bodrum Aquapark
St. Pierre Castle – sant Pierre Kalesi
Bitez Beach – betiz plaj
Ortakent Beach – ortakent plaj
Blue Sirgan Resort – Blu Ciragan Res
Bodrum Amphitheater – Bodrum Theater