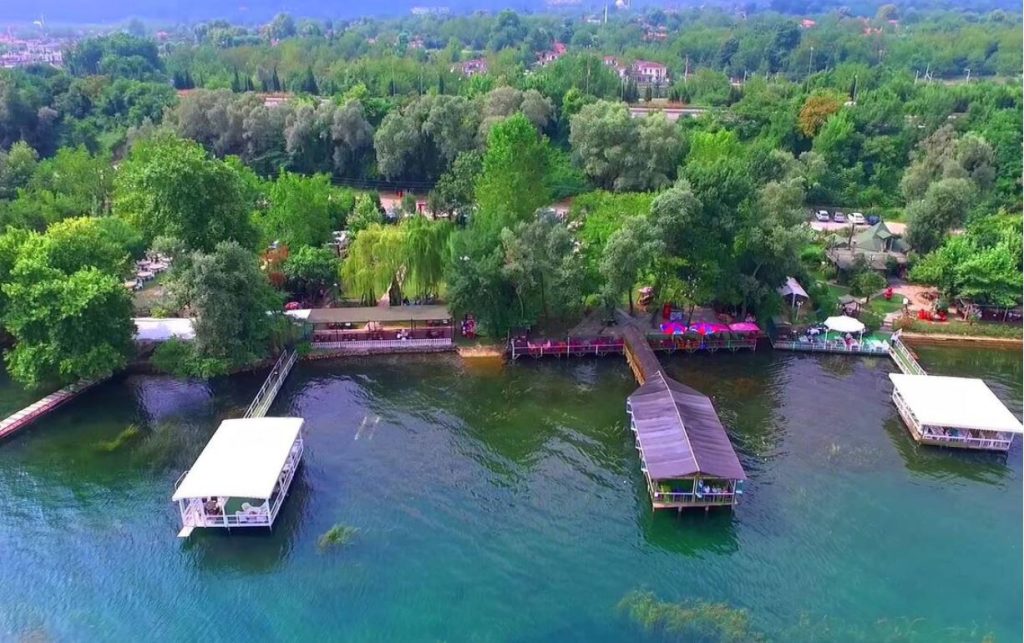 Sapanca Lake
Lake Sapanca is one of the most beautiful tourist places in Sapanca. As it is the largest natural lake in it, and thousands of tourists and visitors from all over the world come to visit it and enjoy its distinctive atmosphere. Sapanca Lake is special by its clear fresh water surrounded by very beautiful and splendid tourist scenes. And it is considered one of the most beautiful places of tourism in Sapanca.
Al-Mashouqiah Village    Maşukiye Köyü
Al-Mashouqiah is a charming mountain village located in the city of Sapanca. It is one of the most beautiful and charming natural areas in Sapanca. It was named by this name as a quotation from the Arabic word "Ma'shuq", which means the person who is loved and adored by others. And the village is about twenty kilometers away from the city center.This village is famous by its beautiful gardens and charming waterfalls, in addition to containing many restaurants that serve delicious fresh fish.
Naturkoy Village   naturkoy
The village of Naturköy has lots of features such as, a mixture between the beauty of the mountains and the beauty of nature, especially in the spring and summer. It also contains a small lake formed by the pool of a number of rivers. And there are some pets such as ducks and rabbits that children can play and have fun with. The village of Naturköy is one of the most wonderful tourist places in Sapanca where you can relax and feel reassured in the lap of nature.
Kartbeh mountain   kartepe
Mount Kartepe's location is in Turkey, east of Istanbul, near Izmit, overlooking the town of Sapanca and the beautiful Lake Sapanca, with a height of about 1650 meters. And there is a ski center, and there are shops dedicated to renting ski clothes on the way to the top of the mountain at an affordable price.
glass balcony   cam teras
The glass view's location is in the area of ​​Maşukiye Sapanca among the mountains on the Kartepe mountain road. The glass view features a wonderful view of Sapanca Lake.
Gol Park Sapanca
Characterized by natural charm, you have the opportunity to accompany the children to play and have fun. And there are games suitable for children to play. Visitors can enjoy the party in front of the artificial lake in the garden. Also there is also a restaurant serving Turkish and Western food inside.
London Park Sapanca
The most beautiful tourist places in Sapanca contain a natural river, a small lake and beautiful sessions on the edge of the river. There are recreational activities, the most important of which are rope jumping, which is one of the most beautiful recreational activities. It also contains a hanging rope for playing and adventure for adults and children.
upside down house    ters ev
It is a nice tourist attraction to take souvenir photos. The upside down house consists of two floors and everything is upside down nice to take entertaining photos. That you can spend about 20 to 25 minutes in it, the employee will take photos for you.
Zoo    hayvanat bahçesi
The park is one of the places that attract tourists to the city of Sapanca. And it is the largest zoo in Istanbul, as it contains nearly two hundred different species of animals, in addition to a very large number of plants.
Subli Resort   Sopeli Doğal Yaşam Köyü
Sobli Natural Resort consists of a lake, a river and a variety of restaurants. In the heart of the resort there is a lake and wooden bridges. It also contains the best restaurant in Sapanca. This restaurant consists of three restaurants in addition to a cafe surrounded by charming landscapes, and each restaurant offers different menus of Turkish cuisine and desserts. It is one of the best tourist places in Sapanca. It has a rating of 4 out of 4434 reviews on Google, and a rating of 4 out of 117 reviews on Tripadvisor.
Sapanca Mall    NG SAPANCA BEDESTEN AVM
It is a simple mall that was opened in early 2019 and is beautifully designed. It includes some brands, in addition to household appliances, and on the ground floor there are some restaurants.
The forests of Romania    ormanya
It is called Ormania Park and its location is near Lake Sapanca. The reserve consists of 5 main areas as follows: 1 zoo – 2 wildlife area – 3 natural recreation area – 4 botanical road – 5 center for rehabilitation and taming of wild animals. It also contains a nature park and forests And a restaurant with a natural view and a children's play park. And it is one of the best places for tourism in Sapanca.